Moving to Kansas…an Immigration Odyssey – by Cynthia Holder Rich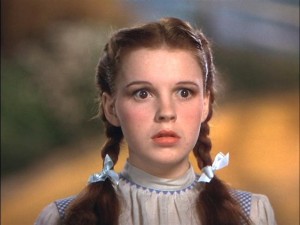 Read Antonio Aja's Essay, "Exodus 1:1-22 – 'Midwives in our Midst'"
Read David Nzioka's Essay, "Would Jesus Have Done it Differently?"
When I announced to my children that I was taking a new call in Kansas, the primary image the news conjured for them was scenes from The Wizard of Oz.  They alternated between anxiety about house-lifting tornadoes to the assigning of different roles from the movie to various family members.  Now, after more than four months in the state and the job, I can tell you that my journey here does feature some of what my kids thought; "where to go in the building in case of a tornado" was an early portion of my orientation, and the encore performance at a recent symphony concert here was, in fact, Somewhere Over the Rainbow.
Our family loves The Wizard of Oz, having watched it many times, and thinking about it brings back good memories.  The film features good-hearted characters, a loving family, and only one exclusive antagonist, who hated small dogs.  Of course, this does not match up with the Kansas where I now live. Dorothy and Toto's story was set in Kansas, but no state looks like Oz.
So how is life different than this classic film?  In my short time here, some differences have become quite clear.  For one, Kansas has more exclusive antagonists than the movie would suggest.  Unlike in the film, today, the problematic population is not seen to be small dogs here in Kansas; it is undocumented people, "illegal aliens", immigrants.  The Kansas Secretary of State, Kris Kobach, has taken it on himself to make sure that laws are written and legislation is enacted to rid the state – and the nation – of these problematic people.
Kobach's work is not limited to Kansas.  He worked in the Justice Department during the Bush Administration, serving with Attorney General John Ashcroft, where he wrote opinions that are the basis of anti-immigration legislation and rulings in many states.  Kobach is the primary author of key anti-immigration legislation, including Arizona SB1070, on which many other states' pending or passed legislation is based or derived. In Arizona, he worked closely with Maricopa County, AZ Sheriff Joe Arpaio, who is under investigation currently by the Justice Department for unconstitutional actions and policies instituted by his office in how they relate to immigrants.  Additionally, Kobach has led court challenges to rulings in a number of states, including Kansas, to the practice of allowing the children of undocumented persons to pay in-state tuition rates at state educational institutions.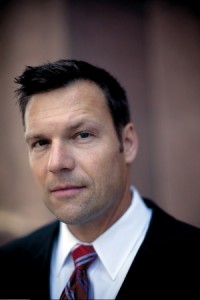 Kobach was elected Secretary of State in Kansas in 2010, running on a platform that claimed, among other things, that tougher controls were needed to work against existing rampant voter fraud by undocumented persons.  Kobach went on to work toward the passage in 2011 of the Kansas Secure and Fair Elections (SAFE) Act, which requires a government-issued photo ID to take part in elections.  Voter fraud claims have not been substantiated, but in this time of anti-immigrant fervor (including continued claims by some, including Kobach, that US President Barack Obama is not a citizen), both the legislature and Governor Sam Brownback did not hesitate to pass and sign the act into law.
Kobach is a controversial figure, both inside Kansas and elsewhere.  The Kansas City Star featured a front-page article on Kobach on Easter Sunday, outlining the diametrically opposed views of the man and his work held across the nation.  The article also informed readers of the buzz about Kobach – that he is a top advisor of presidential candidate Mitt Romney, and that he is being mentioned when people think about Senate candidates, the pool for US Attorney General in a Romney administration, or "something even higher". Conservative columnist and Fox News analyst Ann Coulter mentioned Kobach last year on her blog as a possible 2016 presidential candidate, which drove the buzz into high gear. Kobach is seen as a Republican conservative rising star with an agenda that sells.
It seems that we who follow Jesus have some work to do.
While Kansas is as heavily-churched as a variety of other Midwestern states, the increase in anti-immigrant feeling and the passage of anti-immigrant legislation has not spurred people to action.  People of faith in Kansas have not to date seen this political swing as cause to protest, to advocate, to speak out in great numbers.  It appears that standing firm and tough against illegal immigration is viewed as a valid position to take among practicing Christians.
Yet the Bible is clear on the responsibility of those who follow God to aliens and foreigners in the land.  The Torah includes teachings to have one law for the Israelite and the foreigner alike (Lev. 24.22; Num. 15.14-17; 29-30 Deut. 1.16; 24.17; 27.19), to leave that which remains in the field for gleaners, including foreigners (Deut. 10.19), and identifies the Israelites as aliens before God, who owns the land and therefore is the only "native" (Lev. 25.23, Ps. 39.12, Ps. 119.19).  And the New Testament recounts the spread of the Good News among wildly diverse peoples.  The leaders of the early church were all "immigrants", aliens living under Roman occupation, and much of the New Testament is written to people in immigrant or migration circumstances.[1]
We have forgotten, or chosen to ignore, much of what God has taught us.
This week on ecclesio, we explore immigration in the US and the response of people of faith.  Tony Aja and David Nzioka, two leaders in the struggle for freedom and justice in the Presbyterian Church (USA), will join the conversation later this week.  The Presbyterian General Assembly will take up and consider a number of overtures to increase the church's witness in supporting immigrant rights, or to decrease this witness, or to overturn former policy statements.  It will undoubtedly make for lively conversation.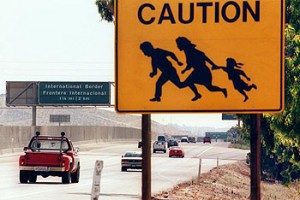 As a new Kansan, I would suggest that a good exercise in preparation would be to read the scripture passages above while reviewing current and pending anti-immigrant legislation.  Google-ing Kris Kobach and finding his published speeches for review would deepen the exploration.  As we study, we need to ask the questions that always lie at hand for we who follow Jesus.  What is our priority?  Where lies our allegiance?  Is our security, our safety, our economic future and our fear about these things the primary consideration – or are we called to another mandate, another vision, a more faithful course? Finally, where do we want to throw our support, and how will we determine the answers to these questions?
Our Kansas movie can move us toward productive reflection.  In The Wizard of Oz, Dorothy sought throughout the film to "go home", and when she got there, she stated the movie's most memorable line: "There's no place like home."  Home is hard to find for many people across the globe, a situation that mirrors that described in the Biblical texts above.  People have always been engaged in migration, and war, violence, hardship, weather and natural disaster have always forced some people from their homes.  Understanding this and integrating it into our consciousness about the whys and wherefores of immigration can lead us to a more sympathetic stance toward those who have come here seeking the stuff that makes life possible.  As we think through the situation contemporary and ancient peoples have faced, reflection on texts indicating our God's approach to people forced to move across borders can provide illumination and create a needed pause from the cacophony of political voices about the issues.
Ultimately, I believe that fear is driving much of the current conversation about immigration.  In a context of continuing economic uncertainty and rising violence driven by the drug war along the border, fear seems a rational response.  Politicians like Kris Kobach understand about fear, and they look to exploit it for political gain.  As long as people of faith turn their back on the call of Jesus not to fear but to trust, Kobach and company will get away with this ploy.
But we are not called to fear.  We are called to trust, to have compassion, to work to understand those in need and those who are different from us.  After all, God and Jesus are different from us, and they love us anyway.  In this Eastertide, we who follow Jesus are called to cast out fear, to realize that those impacted by anti-immigrant laws are people made by God who God intends to protect and nurture, and to look at these people from a more faithful and loving lens. We are called to work to understand the complex situations that drive people to cross borders and the racist implications of much of our immigration policy and practice.  We aren't in the Kansas of Dorothy – we live in a much more complex world than she and Toto knew.  We are called to be faithful in our world today and to be about Jesus' work with all we encounter, no matter how they become our neighbors.
---
[1]
Many thanks to the Rev. Dr. Margaret Aymer Oget for her continuing excellent work in Bible study, from which these texts were drawn together.