How It Looks from Where I Serve – Rob Warren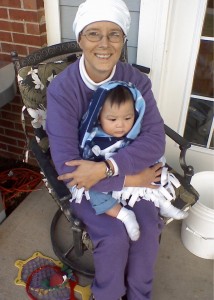 I'm horrible at math, but if the Board of Pensions' current plan is approved then I'll have about a 13% reduction in my take home pay. And this will come while my wife begins her 5th year battling cancer. If my church is asked to pay the $5700 in 'dues plus' that would only serve to drop me to part-time or force me to leave a church I have served for 10 years this August.
The church I serve currently draws near that amount from reserves each year as benevolence giving to presbytery/national church. If this change is made, guess who is more likely going to lose 5 grand a year?
There are more than a few that refer to the per capita giving as a membership tax, this current proposal is already (despite efforts to the contrary) being called the "minister tax.". Granted, the benevolence & health coverage are miles apart theologically… but they come from the same purse.
The perception is growing that this is another action by a distant national church to hamper the progress of renewing/reviving/growing congregations, and a question from a freshly baptized member rings in my ears, "Why do you defend the national church when they obviously don't care about you?" The answer is, because I do believe the system is the best overall, and I do trust others working in the process to drag my distracted self along.
My beautiful wife has been my partner through seminary, working full time so I could finish my degrees, moving to three states, moving away from her family, and she has been willing to start over with new friends, jobs, etc. every time we were called elsewhere. She takes 17 pills daily, and she refuses to go on disability because "I can still work & I need a purpose." She is the strongest person I've ever met, who wonders if she'll see her son's 10th birthday, and doubts she'll see his graduation or wedding. She volunteers at the church and is more "loved" than me (which makes me smile).
And she cries over this proposed change. She already has the unsettling feeling that her care is already too expensive, and that this will be still more that she's taking away from her son's future. In the language of my pre-Reformed self, "The Board of Pensions made my girl cry" and did it at a time when she was the weakest and needed to see what was so special about this church I am willing to devote my life to. I haven't yet reconciled that.
Thank God for the local congregation, for the love and support of our presbyters, for all who struggle to find another way, and for the scripture that shines the light into all darkness.
Editor's Note: On February 11, 2013, the Board of Pensions announced that they were postponing a vote on changes in the medical plan till their meeting in June 2013. Here is the announcement. Posts for this week were already prepared before this announcement was made. Conversation partners encourage continued care and attention to the decision-making process through June.
Rob Warren is the Pastor of Meadowview Presbyterian Church and lives in Louisville, KY with his wife, Lori and their son, Donovan.