The prophetic and the practical of ministry by Rosemary Mitchell
Anyone who knows me knows I am grateful for the women on whose shoulders we (clergywomen) stand.  I am a huge fan of Presbyterian Women.  They taught me, encouraged me and supported me on my journey of faith and call to ministry.
When I stepped away from full time work for the church I stepped into the world of women's philanthropy.   From that time in my life I have an occupational hazard of reading plaques and captions on portraits.   One portrait that I love is that of Mary Stuart, located in Stuart Hall at Princeton Theological Seminary.   Stuart Hall, built in 1876, was the gift of Robert and Alexander Stuart.  Mary's portrait is on the second floor and represents a non "bricks and mortar" type of gift.  Under her portrait is the following:  "A friend of students,she quietly provided a suit fit for the gospel to each student needing one."   And one more thing about Mary Stuart:  for twenty years, she personally funded the Seminary's Chair of Biblical Theology.  That's all I know about Mary, but there is much I can imagine about her.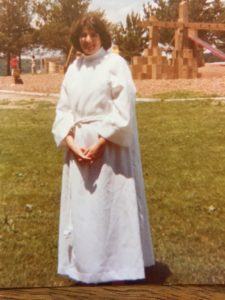 dAt the time of my ordination in 1977 the Presbyterian women of Northminster Presbyterian, Endwell, NY (the church of my childhood) presented me with a "suit fit for the gospel".   A pulpit robe of my choosing.  It was the 70's and some of us were rejecting the classic Geneva robe.  I chose a white alb (that's me in the picture at the picnic where they presented it to me).   No one would have described them as a radical group of women, but they were.  Their love and support was unconditional for me.  It is the only robe I have ever owned.
Fast forward to the 1990's at Downtown United Presbyterian Church, Rochester, NY.  The entire congregation was and is prophetic and deeply rooted in love of neighbor as a reflection of their love for God.   Presbyterian Women was on the forefront when they embraced the idea of women's worship that Rev. Gail Ricciuti and I presented.  They didn't even blink!  Women, Word and Song was born.  Like the princes that surrounded and protected Martin Luther, Presbyterian Women surrounded, protected and financially supported the first congregationally based women's worship in the denomination.
Women's ministries are often prophetic ministries.  Those who are called to prophetic ministries depend on those who have different gifts for ministry, who provide for the practical, every day needs of ministry, who visibly demonstrate the variety of gifts that contribute to the building up of the Body of Christ.
Prophets know there are a variety of gifts required for the building of God's realm.  We are surrounded by a great host of witnesses who carry us forward, cheer us on, share the burdens and the joys of ministry.  People who make possible the lives we are called to lead.   In my case……I am grateful for Presbyterian Women….God bless you!
Rosemary C. Mitchell is Senior Director for Mission Engagement and Support of the Presbyterian Mission Agency.  Previously she served as Vice President for Seminary Relations at Princeton Theological Seminary and as the Executive Director of the Women's Foundation of Genesee Valley in Rochester, New York.  She is a member of Genesee Valley Presbytery where she served as co-pastor of Downtown United Presbyterian Church. She is a Certified Fundraising Executive (CFRE). She is co-author of two books: Birthings and Blessings (Vol. 1 and Vol 2), published by Crossroads Press. She produced and hosted, Women and the Word on WWWG Radio, Rochester, New York.  She is married to Attorney Joseph E. Mitchell.  They have three adult children and three grandchildren.