In Palestine: Nonviolence Works by Emily Brewer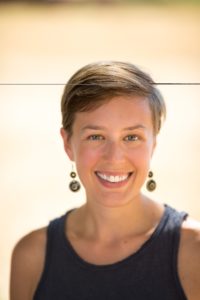 "Where are you going? Why are you here? Do you know these men? Don't lie to me." These were some of the questions that an Israeli border officer asked me when I arrived with a multi-faith delegation of Muslims, Jews, and Christians to the land all our traditions claim as "holy." We were people of faith from all over the US and world who came together with a shared commitment to working for justice in Palestine and Israel through nonviolent means. We found out early on that these faithful commitments were threatening to the state of Israel.
Several of the delegation leaders were not even allowed to board the plane to Israel from Washington, D.C., prohibited from traveling by the Israeli government for their political beliefs. When the rest of our group arrived at the airport in Tel Aviv, almost everyone was pulled aside for more questioning.
Most of the delegates got visas within an hour, but four of the Muslim delegates and I were held for five hours and threatened with deportation from Israel and interrogated. The goal of these interrogations was intimidation. It was an attempt at political repression–to find out if we supported Palestinian liberation.
Just before finally giving the five of us our visas to enter Israel, the security guard warned me, as the leader of the group: "Your whole group is flagged, and if you do anything political we will deport all of you. You shouldn't go anywhere in Palestine especially not to Bil'in or Bethlehem or Hebron. Don't associate with Palestinians or leftist Israeli groups while you're here or you're going to have a big problem."
Here's the funny part: All the places he told us not to go and people not to talk to were highlights on our itinerary, an itinerary with the goal of visiting and learning from Palestinians and Israelis who are resisting the illegal Occupation of Palestine through various nonviolent methods. The Israeli soldier told me those places were dangerous. They are not dangerous. Israel's Occupation of Palestine is dangerous. The only danger in those places is the danger caused by the Israeli military; the Occupation has already killed one of the Palestinians we met with in July and jailed another.
The places and people we visited were not dangerous. They are embodiments of direct, nonviolent resistance and deeply-rooted commitment to the land and people of Palestine.
In Bil'in, for example, the Israeli government built part of the separation wall (which as it has in many parts of Palestine) to cut off the people of Bil'in from their farmland. Through weekly protests and nonviolent direct action as well as legal action, the people of Bil'in actually got the wall moved. The wall was not removed entirely, but it was moved so that they could access their farmland.
Just outside of Bethlehem, we met with the Nasser family on their farm called the Tent of Nations. At the entrance to the farm is a sign painted with the message "We refuse to be enemies." The Nasser family has lived on that land for over 100 years, yet Israel is trying to remove them in order to build more illegal settlements. Sometimes soldiers and even armed settlers show up to the farm, but the Nasser family is rooted in the nonviolence that their faith teaches, and they refuse to be enemies.
Also in Bethlehem, we met with Palestinian Archbishop Theodosis, who told us: "We are against all killing and violence. Killing violates the dignity of human beings. When God created it was for love and building. Not to use our power to take away other people's dignity." That is why he was part of a group that crafted the Kairos Document, which is written by ecumenical Christian Palestinians and calls for liberation for the Palestinian people. It is a cry to the world to resist the Occupation of Palestine: ""There are many shapes of resistance other than weapons. Our most important tool is the media. The whole world must hear us. The world should know what's going on in Palestine. I have never carried a weapon. My weapon is my faith, and my conviction that mine is a case of justice."
Toward the end of our time in the Holy Land, we visited Hebron, where Israeli settlers will not just build new homes on Palestinian land, as happens near Bil'in and the Tent of Nations, but they often take over existing Palestinian homes with guns, forcing the Palestinians to flee. When we asked one young Palestinian activist what gives her hope, she paused for a long time, thinking. Finally, she said: "It's a hard question. Sometimes we don't have hope. But we believe it is our right to be here. I was born here. This is my land. And I have nowhere else to go. I remember my grandmother talking about how her neighbors used to be Jewish and they lived here in peace together."
Peace is possible. It will not happen overnight, and it will not be easy. The Occupation is getting worse, but the Palestinian resistance and international solidarity movement for Palestine has only gotten stronger. That is why the Israeli security was so threatened by our delegation: they did not want us to see and go home and tell what is happening, because the international pressure to end the violence of the Occupation is growing.
Nonviolence is often slow, but it works. We have seen it happen many times before–in South Africa, in the US South, and in many other places. Palestinian civil society has called for the use of Boycott, Divestment, and Sanctions as a nonviolent technique of international solidarity to help liberate Palestine. These tactics put economic pressure on the Israeli government to change its violent and illegal policies of occupation.
The BDS movement, as it's called, is often criticized and undermined by those in power, because they know it works. Even from the US, we can support Palestinians by not buying goods or investing our money in companies that profit from the illegal Occupation of Palestine. In the words of Omar Barghouti, "It's hardly heroic. We're simply asking you to stop funding our oppression." Nonviolence works, and it is a faithful response to violence in our own communities and across the world.
Emily Brewer is the Executive Director of the Presbyterian Peace Fellowship. Her own commitments to nonviolence took root while she was living in Guatemala for one year as part of the PC(USA) Young Adult Volunteer Program. She lives in Brooklyn, NY, but will always call East Tennessee "home."