Lynched: The Power of Memory in a Culture of Terror by Angela Sims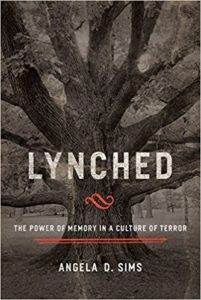 A NOTE FROM THE AUTHOR:
I wrote Lynched: The Power of Memory in a Culture of Terror in part to honor the Black elders who entrusted an aspect of their recollections about life in these dis-United States, and in part to offer an analysis of domestic terror that has been a part of this nation since its inception. In this post 11/9 world, Lynched reminds me that I have a moral responsibility to be attentive to my surroundings, to critique rhetoric, to name evil in unambiguous terms, and to be deliberate about the causes in which I invest my time and finances. My concern first and foremost is the survival and wholeness of Black folk. I leave it to my non-Black kin, friends, and colleagues to do the difficult and necessary work of challenging often-unquestioned constructions of normative modes of being. Then (the era of lynching) and now (in a time when we are experiencing an increased rise of neo-lynching), denial serves none of us well.
The excerpts below from the book illustrate.
Selected excerpts:
Clearly, a recent onslaught of deaths of unarmed Black persons at the hands of police and others counter any claims that silence is an antidote to diffuse a neo-lynching culture. (23)
Until all crime, regardless of the weapon of choice, receives the same attention and deployment of resources, the killing of black bodies, disguised as public safety, minimizes any potential for a constructive national conversation and subsequent actions about race and violence. (27)
Long before the horrific events that occurred in the United States on September 11, 2001, most African Americans, with at least seven decades of life experience, had vivid memories, even if intentionally repressed, of domestic terror. (33)
"The language of our memories is not an act to shame; the language of our memories is an act to illustrate hope." – Rev. Wallace Hartsfield Sr.  (57)
For Hartsfield and countless others, a silent church is a complicit church. (65)
Any discussion about lynching should be intricately connected to practices of justice that critique and call into question US policies that reject the validity that black lives are of importance. (70)
A nation within a nation is an abomination that demands a turning away from idolatry constructed as patriotism. (75)
Imagine walking past killing sites on a daily basis. Imagine living in communities where killing or the possibility of killing at the hands of known persons is a daily reality. (91)
While we may replace the rope and fagot of the late nineteenth and early to mid-twentieth centuries with other killing instruments, the message that not all human life is valued, that black life does not matter, persists. (96)
Far from acquiescing to life as imagined by architects of lynching and now proponents of a neo-lynching culture, oral history participants insist "ignorance is not benevolent. It's not helpful. It doesn't advantage you. And it's like being anesthetized; you may not feel the pain but the injury is still there. So you are not being helped because you don't feel it. You can be beaten into unconsciousness and you may not feel it but the condition is there. So the rage within you, when you see things being done wrong, and you can't do anything about it. And you are expected to accept it. It's hard to accept something you know is wrong". (123)
The Rev. Dr. Angela Sims serves as the Vice President of Institutional Advancement, Robert B. and Kathleen Rogers Associate Professor in Church and Society, and Associate Professor of Ethics and Black Church Studies, at St. Paul School of Theology. About her ministry and research, Angela says:
As lead faculty for the Doctor of Ministry degree program in Children and Poverty in a Globalized Economy which commences June 2010, my research examines characteristics, effects, and implications of poverty on systemic, global, national and local levels.
My research on the ethical complications of lynching suggests that we must be intentional about the manner in which we educate leaders to participate actively in renewing the church. This is especially true in a post 9/11 world where there is a tendency to ignore government sanctioned acts of terror. One of the reasons lynching was so effective following the legal demise of chattel slavery was the ability of its architects to use fear as a tool to control human behavior. I find that fear is still used as a tool to shape human response which in turn can hinder our ability at both an individual and corporate level to act as agents of justice.
Of particular concern for me is the manner in which this reaction to tactics of fear can adversely affect the church's ability to make disciples for Jesus Christ. I, however, remain encouraged. I attribute my attitude in part to an aspect of my research that offers some insight into how to develop strategies of resistance that can be used to facilitate collaborations on local, state, regional, national and international levels to "address the causes of human suffering that result from poverty" and a distorted or displaced understanding of privilege.
I am also heartened by the fact that in every generation there are individuals whose life-experiences remind me that God continues to call us to live in a manner that point to the Divine's ability to use us as agents to renew the church and transform the world.
Dr. Sims holds degrees from Trinity University, Howard University, and Union Theological Seminary and Presbyterian School of Christian Education. She is a Minister of Word and Sacrament in the National Baptist Church.