Ye Shall Share the Land by Noushin Darya Framke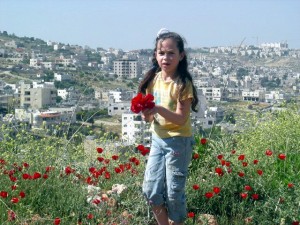 The Knesset and the Two-State Solution
As we Americans prepared to travel for Thanksgiving week to gather with family and friends and give thanks for our many blessings, the Israeli Knesset (parliament) delivered the final nail in the coffin for the two-state solution on Israel/Palestine. The Knesset voted 65 to 33 to require a national referendum vote on handing over any "annexed" territory. That sounds democratic, what's wrong with that, you ask? Well, it's about who gets to vote. You guessed it; not the Palestinians. In a democracy, people get to vote on their own fate and not on the fate of those they lord over. This most recent bill passed by the Israeli Knesset may sound democratic but in fact, it has set Israel further down the apartheid path that it embarked on in 2003 with its official Hafrada or "separation policy."
As it has become painfully clear for those with eyes to see and ears to hear, the historic land of Palestine was never "a land without a people for a people without a land," even if there are still people who believe Golda Meir's abhorrent and distorted quote that there's no such thing as a Palestinian. On the other end of the spectrum, Israeli historian, Shlomo Sand said in his best-selling book The Invention of the Jewish People, that it is highly likely that today's Palestinians are in fact the descendants of those Jews from the biblical era who stayed in the holy land and converted first to Christianity and then to Islam. Whether you agree with Golda Meir or Shlomo Sand, both positions are contentious and controversial.
Israel's existential problem
I prefer to look through the lens provided by historian Tony Judt who was the longtime director of the Remarque Institute at NYU and who recently succumbed to ALS Disease. Tony Judt, a British Jew who emigrated to New York and became an American as an adult, was the first to identify the existential problem Israel faces today in a multicultural and pluralistic world setting. Judt famously called Israel an anachronism, saying it was a good idea for the nineteenth century but an idea whose time had passed in the 21st century. Judt said Israel arrived too late: "The very idea of a 'Jewish state'—a state in which Jews and the Jewish religion have exclusive privileges from which non-Jewish citizens are forever excluded—is rooted in another time and place. Israel, in short, is an anachronism."
What Judt described in that 2003 article in the New York Review of Books, for which he was vilified, has come to be the best description for the apartheid state Israel has become: a society in which one group has exclusive privileges over all others and maintains it through a policy of separation. Today, the question is no longer where the borders will be for the two states, but rather what kind of rights the populations will have in the defacto ONE state. The fact of the matter is that Israel and the Occupied Territories are in fact one state, controlled by one group. Furthermore, nobody in their right mind believes Israel is going to remove up to half a million Jewish Settlers from the Palestinian West Bank. Realpolitik dictates that these settlers will stay put. But will they forevermore have power over their Palestinian neighbors and the map of the area?
Unfortunately, Israel has already wiped The West Bank off the map – politicians, government agencies and school textbooks do not use the term "West Bank" which is officially called Judea and Samaria by Israel. In the minds of Israelis, it's a done deal. The question is how long Israelis, and their supporters, the American taxpayer, are willing to maintain a segregated state with unequal rights. As many Israelis and Palestinians are saying now, the "one state solution" is not a solution but a consequence of killing the two-state solution. When Israel refuses to declare its borders, by definition we are left with one state. When Israel doesn't give the Palestinians their civil rights, we are left with an apartheid state. This is not a sustainable situation.
Three dreams – of which you have to pick only two
In 1948 at the founding of the state of Israel, David Ben Gurion famously said that Israel, the dream, was three things: All the biblical land, a democracy, and a Jewish state. But in 1948, Ben Gurion also said that Israel could only have two out of these three at the same time. Right now, it has control over all the land and it is a Jewish state, meaning Jewish citizens have more rights than others do. (Contrary to popular myth, since not all the people who live in the land have the same rights, it cannot be considered a democracy). Again, by definition, as Prof. Walt Mearsheimer says, Israel is a de facto apartheid state: "Regrettably, the two-state solution is now a fantasy.  Instead, those territories will be incorporated into a 'Greater Israel,' which will be an apartheid state bearing a marked resemblance to white-ruled South Africa.  Nevertheless, a Jewish apartheid state is not politically viable over the long term.  In the end, it will become a democratic bi-national state, whose politics will be dominated by its Palestinian citizens.  In other words, it will cease being a Jewish state, which will mean the end of the Zionist dream."
Going back to the Ben Gurion prophecy, unless Israel wants to remain an apartheid state and since it will not give up any land, then it will have to give up being a Jewish state. In other words, to be a democracy, Israelis will have to share the land with the indigenous people and give them their civil rights. A couple of years ago, Iranian Scholar Reza Aslan gave a lecture to a very Jewish audience at the 92nd Street Y in New York City. He told the audience, "you had better be praying for a two-state solution and be doing everything in your power to make it happen, because if you don't, we will end up with one state, and in twenty years, that state will be called Palestine." A loud gasp went up and everybody present knew just what Aslan was referring to: Demographics.
According to Mitchel Plitnick, the Referendum Law passed by the Israeli Knesset Thanksgiving week is the "death knell" for the 2-State Solution. Gershon Baskin, expecting a rejection of the 2-state solution by Palestinians, says to the Israeli readers of the Jerusalem Post , "You will then have to decide if the state for the Jewish people will continue to be a Jewish state or a democratic state. There will be no possibility to claim it is a Jewish AND democratic state. The bells of freedom and democracy will ring, and you know very well that the world will choose democracy."
Watch this short movie trailer, which Richard Silverstein says is "pimping the settlements." (translation of the Hebrew is below the video). This video underlines the fact that for Israelis,  it is anathema to relinquish any land.  It also shows how many Israelis idealize the settlements by sacralizing them through the use of scripture.  Not counting ethnic cleansing, all that is left now is sharing the land. It is time for all the people to share all the land with equal rights and liberties for all.