Being God's Pilgrim People: Saints and Memory on Pilgrimage – Brett Webb-Mitchell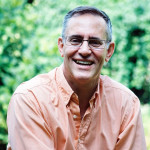 When teaching world religions at NC Central University, covering Hinduism, one figure that is very determinative in the Hindu faith community is Ganesh or Ganesha. Ganesha is one of the more famous gods in the Hindu tradition, well known for his elephant head, which makes him easy to identify. He is widely revered as the remover of obstacles, which, on pilgrimage, is a great gift as a pilgrim is on many pilgrimages along the way of life. He is also well known as the patron of arts and sciences, intellect and wisdom. He is the god of beginnings, and is honored as such at the start of rituals and ceremonies.
Among my Roman Catholic sisters and brothers, there is St. Christopher, or the Christ bearer, whose statue and medal I see from time to time on pilgrimages throughout Europe. He is well known as the patron saint of travellers. And there is the more famous St. James, well known thanks to the Camino de Santiago de Compostela. Because St. James' remains is believed to be buried in the Cathedral in Santiago, St. James has become well known as the patron saint of pilgrims in Spain and beyond.  For those who have done pilgrimage in Ireland, for example around St. Patrick's Purgatory or walking up Croagh Patrick, it is St. Patrick who is the well-known saint of pilgrims.
Saints are important on an actual pilgrimage and in the pilgrimage of daily life. What is a saint?  Frederick Buechner writes "In his holy flirtation with the world, God occasionally drops a handkerchief.  These handkerchiefs are called saints" (Wishful Thinking, p. 83). Or in the Second Helvetic Confession of the Reformed tradition, we read the following about saints: "We acknowledge the saints to be living members of Christ and friends of God who have gloriously overcome the flesh and he world.  Hence we love them as brothers and (and sisters) and also honor them…We also imitate them.  For with ardent longings and supplications we earnestly desire to be imitators of their faith and virtues, to share eternal salvation with them, to dwell eternally with them in the presence of God, and to rejoice with them in Christ…They are to be honored by way of imitation."  Imagine: to honor a saint by imitating her or his storied life!
On an actual pilgrimage as well as the pilgrimage of life, what I appreciate about the saints who have trod this earth and struggled with many of the same core issues of faith we are challenged by today, is that they have some insights into our struggles of faith today.  Thankfully, they also left their mark and stories with us so that we may learn from them.  To begin, the communion of saints give us footsteps or markers that we can detect in moving onward in our pilgrimage of life. Next, the saints also provide a legacy of stories in the very memory of pilgrimage's past. On one memorable pilgrimage between Melrose Abbey (Scotland) and Lindisfarne (England), I read about Sts. Cuthbert and Aidan in the book of memories by the Venerable Bede, and their early days of evangelism. Landing at Lindisfarne, I enjoyed walking around that Holy Isle and discovering the artifacts left by these pilgrims, along with visiting the resting sites of both St. Cuthbert and the Venerable Bede in Durham Cathedral. For those who have visited Canterbury Cathedral, it is an amazing pilgrimage to follow the story of politics vs. Church in the times of Thomas à Becket and King Henry II while traipsing around the towns of Winchester and Canterbury. What we also learn from these saints is the kind of marks one can make upon the life of others, even if one's lifespan is short yet memorable in being true to the Gospel.
In the pilgrimage of every day life within our congregations and parishes, we are reminded that we who are currently pastoring a church or members of a community of faith are but the most recent recipients of the stories of faith that reside within the collective memory of the place where we worship God. What makes a site, a place, a shrine, a church holy is not the place per se, but the people who have come to this location over the years, and for whatever reasons they have come in the first place. Bruce Morrill wrote that the church is a "multiplicity of bodies and histories as the very place of humanity's redemption on the basis of the Gospel, wherein the Holy Spirit creates, guides, and raises up the body of Christ, animates the Church as the body of Christ for the life of the world, and sustains believers with the Eucharistic body of Christ at the center of all ritual sacraments" (Bodies of Worship, p. 15). The very sanctuaries, chapels, and shrines where people gather vibrate or resonate with the very songs sung, prayers prayed, sermons preached, secrets kept, and littered with the crumbs and wine marks left over from Holy Communion throughout the ages. In the American South, pilgrimage took place during the Homecoming events.  Homecomings were celebrated among small and large churches alike, in which people from all ages of the life of a congregation come back to worship and regale one another with stories of the past in order to get caught up with the present and future life of a church family. In many of those churches in the South, there was also a cemetery located behind the church building, where many of the "saints" of the church were buried. To say the least, these homecoming events became moments of pilgrimage for many current and former members of a congregation, as they made their yearly sojourn to reconnect, re-member, and learn again about the life of grace from the faithful who are now departed.  They are now part of that mysterious and wonderful collective that we mention every time we recite the Apostles' Creed: "(we believe) in the communion of saints, the forgiveness of sins, the resurrection of the body, and the life everlasting. Amen."
The Rev. Dr. Brett Webb-Mitchell is a pilgrim, a speaker, a writer, a teacher, a Presbyterian pastor, a parent, a partner, and a pet lover. Currently, Brett is interim head of staff at St. Andrew's Presbyterian Church (USA) in Portland. OR.  He is a pilgrim, having written extensively on pilgrimage that includes stories from his pilgrimages from Thailand and Cambodia, to the Holy Lands, the Celtic frontiers of Ireland, Scotland, and England; along with the Camino de Santiago de Compostela, Chimayo, and pilgrimages throughout Central America. He is speaker and writer, covering issues facing people living with disabilities, religious education theory, and LGBTQ parenting in faith communities. He taught at both Duke Divinity School and NC Central University in Durham, NC. He is a dad of two wonderful young adults, and he and his partner are living bi-coastally between OR and NC.